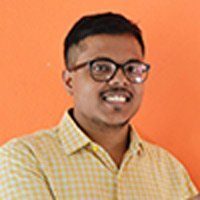 Abhishek Dasari
Student
Systematic. Fun. Enriching.
I have attended two courses in Sampratishta – Level 1 Diploma Course in Fine Arts from Anup sir and Level 1 Watercolor Specialization course from Sadhu Aliyur sir.
The diploma in Fine Arts course is very well planned, organised and executed by Anup sir. The course is demanding at the same time fun, you get to draw a lot, mistakes made are rightly pointed out and techniques to correct them is presented, this improves ones observation skills.
Anup sir's calm presence and guidance made the progress smooth.
The watercolor course by Sadhu Aliyur is a joy ride. He is a master of his craft. A man who does sheer magic with watercolor. From the start of the course to the end I was awestruck. I learnt a lot from you sir 🙂
If you are interested in Fine Arts & Design and ready to put some effort, the fraternity of Sampratishta will take you step by step in your journey with unlimited guidance.